Topic: Quebec Movies
As I live here, might as well let you peeps know about my favorite ones from my beautiful province. We even have a few that went to the Oscars so yes, great cinema happens here. Strange that we don't have much Horror though, our Special Effects dudes are in the best of the market. Probably because the audience doesn't like them as much as the Dramas and comedies we have.
The best one ever is definitely INCENDIES.
http://youtu.be/0nycksytL1A
Such an insanely beautiful story full of great shots and surprises...
The bus blowing up with the little girl's mother still in is troubling. VERY!!!
PRISONERS is not from here but the director is from Montreal so it kinds of fits. Can't wait to see it, looks badass with a damn great cast.
http://youtu.be/1kWeHtI63jc
J'AI TUÉ MA MÈRE [I Killed My Mother]
Insanely mad one by one of our talented nominated for the Oscar other director, a young one he is and WOAH the CRAZY flick truely.
http://youtu.be/BgCqY3cE-VM
This is kinda like our version of Fast And Furious. With one of our best actors we have round here, Guillaume Lemay Thivierge, the husband of the gorgeous and talented too Mariloup Wolfe which did the directing of the movie I'll talk about later on. He also plays in it.
Called NITRO and it's FULL of it. Damn I like The Dodge Charger, kick ass car.
A street racer tries to find a heart for the girl he loves which is in bad shape at the hospital. Tremendously touching story, great visuals, phenomenal acting by EVERYBODY.
http://youtu.be/QegqLS83FFw
LES PIEDS DANS LE VIDE
Man Mariloup's first one is insanely great. Gorgeous photography, fantastic story and fabulous acting. Wonder how she managed to see her boy friend have sex with her good friend Laurence.

Quite the history of Guillaume and Mariloup's life really, he's got a Parachute jumping company so the movie is based on that. Of course, he doesn't do base jumping off buildings like in the film but still. VERY TOUCHING stuff happens when he smashes into a bus stop cabin and gets his legs screwed up. Yup a true MASTERPIECE!!!
http://youtu.be/5NE8YjHm_dQ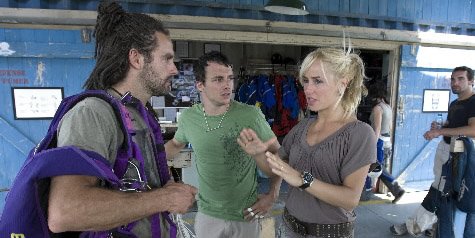 Damn Mariloup's such a hottie!!!
THE DECLINE OF THE AMERICAN EMPIRE
http://youtu.be/a7R4YFi_qhA
Oscar for the best Foreign Movie in 1986, a wonderful character study of 50 years old people. Hilarious views and beautiful, of course, won a damn OSCAR so...

http://youtu.be/QegqLS83FFw
That is the only Horror one that is truely one, not a Drama with Horror stuff stucked in like most of ours are.
LE POIL DE LA BÊTE
http://youtu.be/m7iozLXTY8Y
A Werewolf family causes trouble in 1665. Great acting by bunch of our best actors, Guillaume's in it too. GREAT Special Effects and creature designs. Very freaking cool!!!