Topic: Dolly Dearest
Just watched this last night on cable. I remember seeign this a very long time ago.. has anyone seen this ??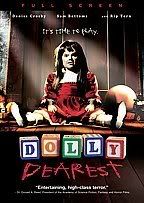 Its a total ripoff of Child's Play !!
here's the plot:
In Mexico, an archaeologist releases the evil spirit of a devil child from a tomb of an ancient tribe called Sanzia that worshiped Satan on Earth and dies in an accident. Immediately after, an American family with two children arrives to live and reactivate a factory of dolls in a site nearby the archaeological field. .The Demon inhabits one of the dolls that the daughter plays with..The demon starts chnging the daughter and wants to kill the family..
http://www.youtube.com/watch?v=sBJndWZLQTk