Topic: "Letters From The Dead" is live!
OMG! I'm published!!!!!
:D:D:D:D
This awesome anthology contains my first prnted story
Brought over from LOtLD forum
dr-pus
Library Whore - founder
6272 posts
0 green thumb up red thumb down permalink
I'm very proud to announce the The Black Empty's "Letters From The Dead" is now available for purchase from CreateSpace. Here's the link:
https://www.createspace.com/3443967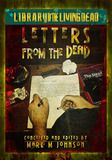 Huge thanks go out to Mark M. Johnson (TBE) for compiling and editing the book, to Dan Galli for the absolutely wonderful cover/backcover and to Kody for formatting the book.
I have high hope for this very unusual book. Nothing like this has ever seen print in the zombie genre.
Please go to the link and buy a copy. The book will be available on Amazon.com next week as well as available to puchase through bookstores using the Ingram catalog.
And here is the synopsis:
Image
Letters From The Dead
List Price: $10.95
Add to Cart
Letters From The Dead
Authored by Mark M. Johnson
Defying all logic and reason, the dead returned from death. All over the world, dead human bodies rose and walked the Earth in search of living human flesh to consume. Despite the valiant efforts of the living's vast armies and superior weapons, the dead won the Zombie War.
Defeated, the surviving governments of the world fled to the safety of their underground bases, leaving the last living survivors to their fate. All alone, trapped, for them there was no last second rescue, no escape. The Dead surrounded them, pounding on their barricaded doors, smashing in their boarded windows. It was their last chance to say goodbye, their last chance to shout out in defiance. It was time to write their final words.
For decades, the dead ruled the Earth unchallenged, but their reign was finite. In time, they returned to the dust from which they came.
When the living survivors emerged from their underground shelters, they would discover hundreds of thousands of tattered decaying messages, the letters left behind by the last to perish in the Zombie Apocalypse.
These are those "Letters From The Dead".
Publication Date:
May 14 2010
ISBN/EAN13:
1451583079 / 9781451583076
Page Count:
136
Binding Type:
US Trade Paper
Trim Size:
6" x 9"
Language:
English
Color:
Black and White
Related Categories:
Fiction / Horror
Last edited by floridapossum (2010-05-16 15:23:41)