Topic: Holliston
A new TV show coming out in April on Fearnet. I t looks a bit like Todd and the Book of Pure Evil?
Looks good...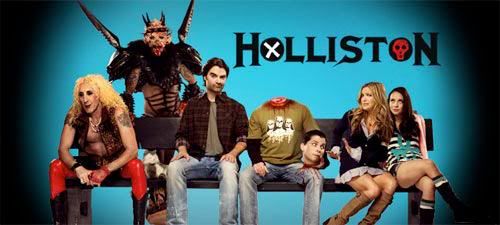 Holliston comes from the minds of Adam Green (Hatchet, Hatchet 2, Frozen) and Joe Lynch (Knights of Baddassdom, Wrong Turn 2). The twisted comedy will be on FEARnet television Tuesday, April 3, 2012 at 10:30pm ET.
"Holliston," is FEARnet's first original scripted television show, it's a riotous and offbeat multi-camera, buddy comedy set in the town of Holliston (near Boston). Described by its creators as "The Big Bang Theory meets Evil Dead II," the series shines a light on the post-college life where everything is a struggle, and nothing works out like it's supposed to, with terrifyingly funny results as Adam and Joe struggle to become big-time horror filmmakers and make ends meet.
"Holliston" stars Green and Lynch, along with Corri English ("Unrest," "The Bedford Diaries," lead singer of Brokedown Cadillac), Laura Ortiz ("The Hills Have Eyes," "Horton Hears A Who"), Dee Snider (Celebrity Apprentice, Twisted Sister, Strangeland, radio/television personality) and Oderus Urungus (Alien lead singer from legendary heavy metal band GWAR). The regular cast will welcome a bevy of guest stars and celebrity cameos during its first season.
Upcoming guest appearances include:
Colton Dunn ("Hatchet 2," "Parks and Recreation")
Danielle Harris ("Halloween 4 and 5")
Kane Hodder ("Friday the 13th," "Hatchet")
John Landis ("An American Werewolf in London," "Animal House")
Derek Mears ("Friday the 13th")
Bill Moseley ("The Devil's Rejects")
Brian Posehn ("The Sarah Silverman Show")
Parry Shen ("Hatchet," "Better Luck Tomorrow")
Tony Todd ("Candyman," "The Rock")
Ray Wise ("X-Men First Class," "Reaper")
...Credit to Best Horror movies