Topic: Five Horror Film Performances which Should Have Won Oscars but Didn't
The title says it all. Here's my take on five phenomenal horror film performances which should have won Academy Awards or, with one exception, should have at least been nominated.
5. Ted Levine - Silence of the Lambs
Yes, Silence was a box office smash. Yes, critics and fans alike adored it. Yes, it won a butt-load of Academy Awards, including for Best Actress and Best Actor, among others. And yes, it deserved every one of them. But while there's no denying Hopkins' creepifyingly alluring performance, why was there no love shown for Levine as Buffalo Bill/Jame Gumb? Hannibal Lecter had already appeared once in the film Manhunter (portrayed by ace character actor Brian Cox) but Bill was unique, startlingly and horrifyingly original. His "Put the lotion in the basket" line has become as much a pop culture mainstay as Lecter's fava beans and he did more to enlighten women to the dangers of helping strangers with arm casts than anyone in cinematic history. And then, of course, there's "the tuck." In a film full of grand, expert performances, Levine's, while less glamorous, is the one which really socks you in the gut.
4. Lori Cardille, Day of the Dead (1985)
Go on, say it. I know you want to. "Great movie Lon, but Cardille? Snubbed, in an ultra-gory zombie movie? C'mon, son!" And I will say in return, "Damn skippy." Cardille's character, Sarah, wasn't the first strong-willed female character in a horror movie -- in fact, Sigourney Weaver portrays a similar character in Alien, and got all kinds of kudos for it, and Ripley has long been considered one of the strongest female characters in horror film history. But I put to you that Cardille does her one better; she plays the same type of strong character, hanging with her testosterone-fuelled co-stars without missing a beat...but also affords her moments of vulnerability and fragility, as well. Witness the levels of emotion she goes through during the scene where she has to amputate her infected lover's arm. From frantic, to focused, to stoic and forthright and, finally, to a heartbroken, emotional wreck. Cardille delivers more of a performance in that handful of minutes alone than most actresses do in an entire film, and she's completely convincing every step of the way.
3. Jason Miller, The Exorcist
Miller, unlike everyone else on this list, actually WAS nominated for The Exorcist, as Best Supporting Actor (though it should have been Lead Actor, considering his is the central male performance in the film). Sadly, he lost to Joel Gray (who won for the film Cabaret). And it's every bit as unfair as it sounds. Miller's moving, earnest portrayal of a Catholic priest who loses his faith following his mother's death, then finds again it at the exact moment he needs it the most, is the kind of stuff the genre has been sorely, sorely lacking over the last few decades. Miller would (kind of) reprise the role seventeen years later in Exorcist III -- a very good film on its own merits -- but by then The Exorcist had spawned so many Catholic horror films that the role lost much of its impact.
2. Bill Moseley, The Devil's Rejects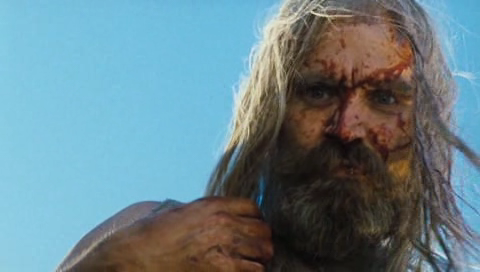 In House of 1,000 Corpses, Otis Driftwood is an albino serial killer/rapist who, despite not having any kind of proper medical equipment, has improbably mastered the art of gene splicing (fishboy, anyone?). Silly, eh? Blame Rob Zombie. But then be sure to turn right back around and thank him for drastically revamping the character for The Devil's Rejects. Moseley was so effective bringing the reworked character to life, so intensely focused on making him real, that he actually had to step aside and purge the character from his system for a few minutes after violating Priscilla Barnes during the disturbing motel room scene. Few people have nailed the "psycho redneck killer" bit as well as Moseley does here. There are moments in the film -- such as Moseley hovering over the doomed Geoffrey Lewis while proclaiming "I am the devil, and I am here to do the Devil's work" -- where he trumps anything such genre luminaries as Price, Cushing and Lee have ever done. And that he was later able to make you feel some kind of sympathy for the vile scum, and even root for him, is a testament to what Moseley is capable of with the right material.
1. Christian Bale, American Psycho.
Bale being snubbed for his outstanding performance as the sociopathic Patrick Batemen is proof positive that the Academy doesn't have the slightest effing clue. Funny. Terrifying. Sympathetic. Revolting. Charming. Insufferable. Bale runs the gamut painting a picture of an empty shell of a human being doing his best to fake normalcy as his inner monster constantly bites, claws, kicks and scratches to be released. Based on the character created by Brett Easton Ellis in the novel of the same name, Bale's is the kind of performance which makes it impossible to re-read the book without seeing him as the character. You want an Oscar-quality monologue? Just check out his frantic confession into his attorney's answering machine. And while actors like Deniro get all kinds of attention for their method approach and altering their body for any given role, little has been said about Bale's capturing of the perfect "Men's Health" physique for this film. From first frame to last, Bale infuses the character with convincing life and leaves us mesmerized by him, terrified of him...and maybe wishing we were him.
So there you have them. Feel free to agree, disagree or post others you feel were snubbed, as well.