Jason Harper of Risen Exclusive Interview
deadmanwalkin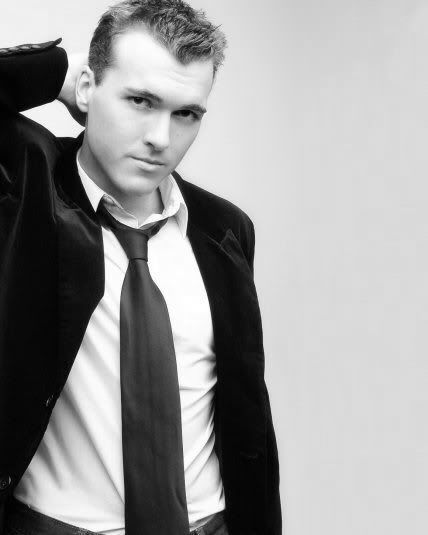 If you gore gluttons have been paying any attention at all to upcoming films, then the title Risen should be as familiar to you as your own name.
We here at Horror-Movies have been awaiting this film very impatiently and its release is finally within groping distance. We have given you cool shot after cool shot and the response has been fantastic.
Of course, I haven't been around for ALL of the hoopla but I did come on board just in time to do this interview with Jason Harper. He is a lead actor in Risen and I am most grateful he has taken the time to answer some questions for us.
Hi Jason. Thanks so much for taking the time to talk to us. We are so excited about Risen.
No problem. It's my pleasure. I love the site!

Q. Before I dive right into this film, I would like to get a little background information on you. Risen is not your first film, but your fourth. What other films have you done?
Though "RISEN" is my first major starring role, I've had smaller supporting and featured (which is a nice way of saying I was the dude in the blue shirt standing 10 yards behind a big star) roles in several films. Those include "The King" with Gael García Bernal and William Hurt, the FX Network docu-drama "Oil Storm", and several smaller independent films/shorts.

Q. You have also done several corporate training videos. I always wanted to act in those. I just knew it would be a lot of fun because of the intentional cheese. What was that like?
It was great fun. I just finished a hospital training video with the director of "RISEN", Damon Crump. I don't know if anyone besides aspiring physicians will see it, but if you can snatch up a copy it'll be quite the "RISEN" collectable. Fans of the film should get a kick out of it because it's filled with actors from "RISEN". Joe Thackery (Sam Mills) and Stephen Lee (Ranger Jack Hays) portray doctors in the industrial. My scenes were with Oliver Luke (Chris) which were really a blast, because I also had scenes with him in "RISEN".
It's odd to think that in one project we can be smoking a joint during a zombie apocalypse, and in the next we can be discussing how to handle a patient showing signs of fatigue. Certainly the best part of doing that particular industrial was the reunion atmosphere. All those guys are so great to work with, and it was a blast to have the opportunity to act with them again.

Q. But that is not even close to being the whole of your experience. You have an extensive background in theater as well. As a matter of fact you founded your own theater company, The Parking Lot Players. How did that happen for you and are you still involved with it?
Theatre will always be my first love, and I'm sure I'll always be involved in some form of theatre. The Parking Lot Players came around really out of necessity. I wasn't doing the kind of shows I wanted to, so I decided to put on my own. It certainly has been a learning experience.
There's a lot of work that goes into not only directing a production, but producing as well. I'm still very much involved with the company. The PLP really follows me from city to city. When I have some free time in a new city, I'll perform a show. There's just something about watching an actor or a performance live and seeing a character change before your eyes that has always appealed to me.
Q. You are also very athletic. What sort of things do you enjoy doing and how on Earth do you ever find the time?
I've always been involved with athletics. One of my favorite new hobbies is jogging. It's such an awesome way to take some time alone and focus on things, so I always try to make as much time to do it as possible. I generally bring along my weights and a stability ball to work out after a day's shooting. The funny thing is that my stability ball is actually in the shape of a giant pill. So it basically looks like a huge butt plug. I can tell you walking into the hotel lobby at 12:00 A.M. carrying a giant blue butt plug, certainly got some looks from the front desk!

Joseph Thackery (Sam Mills) and Jason Harper (Nick Mills) cracking up during a scene.
Q. As if all of that wasn't enough, you also sing tenor, do several dialects, and have proficiency with firearms. Is the firearm skill something that you learned out of interest alone, or is it directly related to your acting?
Well, growing up in Texas you're basically given a gun straight out of the womb. It's a right of passage for any true Texan. Sadly, I didn't get to shoot any firearms in "RISEN". I'm saving that for my role in "Rambo VIII"!
Q. Okay, now on to Risen. Tell us a little about the film as well as your character, Nick. He seems to be a bit of a layabout.
"RISEN" is about a young couple (Sam & Jenny Mills) whose daughter disappears during the first few hours of a zombie outbreak. The couple then goes on a search through a zombie infested city to find her, trying to stay alive long enough to be reunited.
The character I portray is Nick Mills. He is Sam's younger brother. He's certainly a layabout. Nick's a kid who isn't going anywhere in his life and has made plenty of bad choices. When he finds himself in this horrifying situation, the most important goal for him is to get out alive. He speaks his mind, and that often times gets him on people's bad side. Despite his faults, I think a large part of the audience will relate to him and his actions.

Q. Obviously you don't have a great deal in common with Nick judging from your active lifestyle and motivation. Did you find it difficult to play a character so far removed from yourself?
Not so much difficult as it was liberating. In show business and certainly society in general, your taught to make people happy and don't stir up any trouble. What was so refreshing for me was playing this character that speaks his mind all the time. Nick often echoes the thoughts of the audience. If someone was walking into a dark hallway, Nick would be like that woman the front row of the theater who yells "Don't do that, you stupid b****!" and throws popcorn at the screen. If there was a trait I'd like to take from Nick, it would be that ability to speak your mind and damn the consequences.

Q. Do you have any particularly memorable anecdotes that you would like to share from the filming of Risen?
Oh, where to start? There were so many. Everyone involved in the production were just so much fun to be around. Well, there was a running joke throughout filming about the possibility of a sequel. If the movie does well, I believe we'll switch genres and make a zombie porn flick. I think all the cast have agreed to return for the scantly clad sequel tentatively entitled "RISEN…AGAIN". Maybe we'll use our newly garnered reputation from "RISEN" to bring in some A-class porn stars to play the zombies and various supporting roles. Though if we do it, I'll have to renegotiate my contract because I want my own nipple tweaker just like J.Lo.

Jason Harper (Nick Mills) chatting it up outside the Mills House location.
Q. There are tons of zombie films around. What is something unique about this film that we should be aware of?
Something that really stands out in this film is the character development. You really feel that these are real people going through this nightmare. A lot of horror films don't realize the power that well defined characters can bring to a story. In "RISEN", the characters feel for one another and that in turns makes the audience feel for them. And as any movie buff can tell you, the more your emotionally invested in a film, the closer everything that happens on screen hits home.

Q. Your background has allowed you to explore many different genres. Did you enjoy working on a horror film? Do you think it is something you would like to continue?
I loved working on a horror film! I was so excited about doing this project because zombies are my favorite genre of horror. I can't begin to tell you how lucky I am that my first major role in a feature film is in my favorite genre. As opposed to some actors who do films because of exposure or paychecks, I really wanted to do this film because it's one that I would go see. I believe that was the feeling of just about everyone on set, and that'll really show in the finished product. We all put our hearts and endless gallons of fake blood into "RISEN".
If I could only work in horror for the rest of my career, I could certainly live with that. I've always believed in making films that I would go see myself, and horror films are the most fun I have at the movies. So "RISEN" is hopefully just the beginning of my career in the genre. There's so much more I want to do in horror.

Q. Are you a horror film fan? If so, what do you think is the scariest movie of all time?
I'm a huge horror fan! I always have been. I remember when I was a little kid, we had this really old video store in my hometown and they carried all these great horror films that I had trouble finding anywhere else. Just about every weekend I'd rent four or five of them and just have a blast! It's a genre in which the audience can feel so many different emotions. Horror can be frightening, disturbing, funny, poignant...and a good horror film can bring as much to the table as a Oscar winning drama.
The scariest horror film? Oh, let's see. I've always been scared of films that have stories based in reality. So, I think the scariest movie of all time has got to be "The Texas Chainsaw Massacre". A film based loosely on Ed Gien. There are moments in that film like the dinner scene that just stick with you forever. I still know people that won't watch that film!

Q. Do you have any other projects coming up that we should be on the lookout for? Or is there anything at all that you would care to add?
Right now, I'm just living the life of an actor. That life consisting of being unemployed most of the time, eating Top Ramen Noodles, and going on auditions. I've got several commercials and music videos coming up, and I am writing a screenplay of my own that I'm really excited about. It's a horror film tentatively entitled "The Salvage". It's coming along quite nicely and everyone involved is pretty stoked.

If readers would like to find out more about me and get the latest updates on my upcoming projects, visit my official site at www.jasonharperonline.com.

Jason Harper (Nick Mills) waiting for "Action!" during a fight scene with the "Coked Up" Zombie.
Q. Finally, if you found yourself facing the end of civilization, what are three things you would like to have with you and who would you want by your side?
If I was facing the end of civilization, the three things I would bring would be:
1. A huge arsenal of weapons because you can never have enough firepower when the dead rise!
2. My movie collection because you can only throw pies and spray seltzerwater on zombies for so long before you get bored... or can you?
3. A clean pair of underwear because at first I'll be scared sh*tless!
Who would I like by my side? I'd have to bring along Nicole Kidman, because we'd have to repopulate the Earth...right?

Thank you so much for sharing your time with us Mr. Harper. I wish you nothing but great success in the future. I don't think you are going to need luck.

Thanks Horror Movies.ca. I've had a great time doing this interview. I hope you guys out there will dig "RISEN" as much as we did making it! In the immortal words of our Production Designer/Art Director Dave Winfrey, Jr., "Keep it slombie!!!"