Shutter Review
Written by: deadmanwalkin
I know.. I know. How many times time's can you see an Asian horror film, that deals with vengeful ghost, and a story at it's core, is the same as all the others – how about "one more time." Shutter, is a film that continues to re-affirm my belief that (as of late) foreign horror is far superior to horror from the U.S.
The overall story of "Shutter" goes like this: The horror begins when Tun, a young photographer and his girlfriend, Jane accidentally hit a woman while driving a car. For fear of what may happen, they decide to leave the woman and drive away.
Later, Tun discovers an unexplained event when he finds mysterious shadows appearing on his photos. He thinks it must be his camera, but then he realizes there's something more behind the shadow -- the shadow shows as the shape of the face that's familiar to the dead woman.
Now, the couple gradually finds out a terrible connection between the shadow and the photo. What could that connection be? Why are Tun and Jane continually being haunted by visions of mysterious dead woman. Is there something more to this? Are secrets from the past trying to reveal themselves? Has the dead come back for revenge, or is this all some sort of illusion?
Grab your camera… take a picture, and tell me what you see.
But this film is far more deeper and layered then what the above synopsis indicates. As the film progresses, each new layer is revealed and once you think you have everything figured out, the director will peel back another layer, and then another.. masterfully connecting each layer to the next, and once the final reveal is done and the movie ends, you are able leave satisfied.
First time directors Banjong Pisanthanakun and Parkpoom Wongpoom did an excellent job in weaving a cohesive story. Like I said before, if you've already seen your share of Asian horror films, you pretty much know what you are going to get, but Banjong and Parkpoom both do a great job in trying to create something new.. instead of rehashing the same idea over and over. I look forward to seeing what they can do with their next feature film, titled "Alone."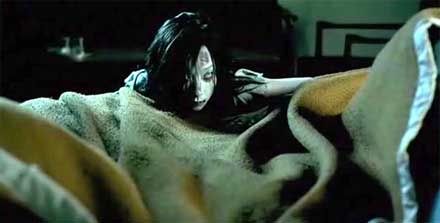 The overall acting in Shutter was very good. Huge props to both Ananda Everingham (Tun) and Achita Sikamana (Natre) who pretty much played their parts perfect. I was drawn into both of their stories, and was intrigued on how their lives intertwined… and it was all because of story telling and how well the actors played their parts. Natthaweeranuch Thongmee (Jane) was good as Tun's girlfriend and played a solid supporting role, as did the rest of the cast.
With this film, as well as many other Asian "ghost" story type films, the overall gore level was minimal to none. We do get some nice shots of Jun puking up some blood and Natre does look pretty nasty as her "haunting self," but the true star of this film would be both the pacing, as well as the sound design/music. Both directors really know how to crank up the tension, without drawing something out to long. I will admit that you will have your cheap scare with the "overly loud" use of sound design (to heighten the scare), but the overall mood of this film should have you already tensing up way before that comes into play.
So, if you're already a fan of films like "The Eye", "The Grudge" or their Thailand counterparts "The Echo" then you will definitely love Shutter. If your one who hasn't quite made the jump into the Asian horror scene, than this would be a great movie to start with – trust the deadman.