House of the Dead 2 Review
Written by: deadmanwalkin
House of the Dead 2 is the type of film you truly wanted to love (or at least like) but for one reason or another couldn't. With HOTD 2, I was hoping for a "guilty pleasure" type of film, but the only guilt I felt was actually staying around long enough to finish it. I went into this film with an open mind and was actually enjoying the opening moments (what's not to love about a panty raid at a sorority house with super soakers), but when it was done, the overall film ended up being a mess. From the poor writing to the "conveniently acting zombies," to the stupidity of the characters on screen – HOTD 2 was all over the place.. and it very rarely did it find the deadman's "happy place."
Here's how the story for HOUSE OF THE DEAD 2 breaks down: "At a local university, Professor Curien (Sid Haig) is experimenting with eternal life, when he unwittingly unleashes a zombie plague onto the university campus. Soon, the whole campus is infected and overrun by zombies and 29 days later a Special Forces unit, along with two AMS agents Emmanuelle Vaugier (Alex) and Ed Quinn (Ellis) are sent in to find any survivors and retrieve a blood sample from the "zero generation" zombie – in hopes of creating an antidote, but they only have until 0700 hours before cruise missiles are sent to destroy to whole area."
Now with the film being 95 minutes long, you would think that one would at least find some redeeming value to the film or at least some certain elements that one would like – and for the deadman there was several, but the onslaught of a bad script almost choked out any pleasure I might of derived from this film. I will first talk about the positives.. and straight up the SFX and zombie make-up in HOTD 2 is a lot better this time around.. credit the boys at Almost Human for a job well done. Even though a majority of the gore consisted of "head shots" and blood oozing out of a zombie's mouth, what we do see on screen was well done… I just wished we had more of it.
Also, on a "semi-positive" note, the acting in HOTD 2 was decent and tolerable at best. Emmanuelle Vaugier (Alex) and Ed Quinn (Ellis) as the two lead AMS agents where pretty believable and played their parts well (considering what they had to work with). The rest of the cast did provide some comedic moments, but outside of a few "chuckles" and the "eye candy" momets they were pretty much unmemorable and regulated for zombie fodder. Sid Haig's impact of the film was fleeting, as his screen time was very minimal, but I was diggin him as Professor Curien – to bad we couldn't have had more.
And now for the negatives.. and this could be very long, but I'll only point out two of the most blaring – one which was hindering me from truly enjoying this film and the second which ticked me off as to the convenience of it's usage. I can deal with bad acting, I can deal with weak production issues and so on and so forth.. but what I can't stand is bad writing and character development. The story for HOTD 2 is pretty straightforward and simple enough – "get in, get what you need and get out," that's fine. But it's the actions of our characters and the stupidity of which they interact with the environment that kills me, and this was especially true with the Special Forces team in this film. One minute they are a "crack unit" and the next they act like they've never seen a zombie before… and this just scratches the surface at the stupidity of how these characters act and react to the situation around them – frustrating.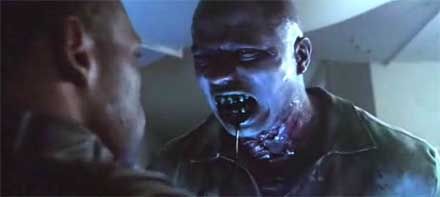 The next thing that was ticking me off was the overall action of the zombie's themselves.. and depending on the situation needed.. the writers wrote in a different type of zombie. And don't tell me that they are evolving is the reason why we have so many types of zombies. Prime example was when a soldier leaves his unit to go investigate a sound, in which he believes there may be a survivor. Cue in "not so scary moment" as he looks one way and the mysterious figure moves the other, trying to follow the figure but never quite catching up. Finally, away from his unit, the soldier discovers a girl; back turned, hunched over and acting scared. Of course the soldier thinks it's a survivor and turns the girl around and what do you know – ZOMBIE! In HOTD 2 we have zombies that shamble and zombies that run. Zombies that are aggressive and zombies that don't have a clue you're around. A zombie that acts like he's reading a book... to a librarian zombie that "shh's." Do you see a pattern here? Whatever the writers needed in a particular situation, they created a zombie for that situation. Which, if this film was full of camp and made for laughs that would have been fine, but they tried to mix all this in with a serious tone - it just wasn't working.. not on any scale. And this is just part of a bigger problem.. I'm not even going to go into how when a majority of the zombies attacked they go into this spaz-matic "windmill mode" with the flailing of their arms – I was cracking up.. I was like "Zombie's.. Windmill Attack.. GO!" And let's not even talk about how the two heroes waded through a sea of zombies and not get bit. Or (I'm on a role).. if the fate of the mission (as well as the human race) involves getting the blood sample from the "zero generation" zombie.. and once you get that sample, please be sure you secure it in something better than a "fanny pack." GEEEEEEEEZ!
I can keep going on and on.. but I won't.. it's like shooting fish in a barrel and my review is long enough. But I will say this, that even with all its problems HOTD 2 is still better than the Uwe Boll original – but just barely. Looking back, I'm sure there will be fans of this film and I will say that I did like certain moments of HOTD 2 - there are some bright spots.. but for me.. the negatives outweighed any of the positives this film may have had. In the end, HOTD 2 may make for a decent showing at "B-Rated" movie night, but nothing more.