Tobe Hoopers Mortuary Star Rocky Marqutte Exclusive Interview
Meh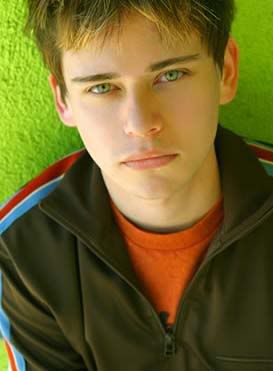 We had a chance to toss some questions at Rocky Marquette about his two films "Shallow Ground" and Tobe Hooper's "Mortuary" in which he stars in both. I will be the first to admit you may not know who Rocky is right now, but dont worry, you will in short order.
He is a very talented character actor and is by far the shining cast member in Shallow Ground. So much so that Shallow Ground is sold out everywhere. Hows that for a seal of excellence?
If you want to see Shallow Ground you may have to wait, or you can enter to win it in our Shallow Ground Contest. We have lots of copies to give away!
Any rate enough introductions, time for the interview.
To start things off, thank you for taking the time to do this interview. Rocky can you tell our readers a little bit about yourself?
First I would like to start off thanking you and your readers for this interview.

A little about myself. Well, I grew up on the beach in Michigan where I use to write about moving to California. A few years later, I made the big move. I been living in the Golden State for 4 years now and love it.
Now, in "Shallow Ground" you play a character that's only referred to as "The Boy" - Not much is know about him, can you shed some light on your character?
Without giving too much away from the movie, The Boy shows up to this small town, naked covered in blood.
Nobody knows who he is, he doesn't speak a word and basically freaks everyone out. As you watch the movie, you begin to understand who The Boy really is.
In an interview we did with Sheldon Wilson (Director), he talked a little about the casting of "The Boy" and how you
"nailed it." Can you tell us a little bit about that day, the audition, and your experience?
Like all auditions, I received a call from my manager about this audition. He sent the script over for me to read and we talked about it. After we read the script I went on the audition.

The Boy was an interesting role because he basically has next to nothing amount of lines and is present throughout the entire film. There had to be a lot going on internally behind the eyes. So it took a lot on my part to find the inner emotions that he would be going through.

Sheldon was at the audition along with the producers. I just went in, did my thing and got the hell out. Hah... best way to do it. A week later, I got the called that I recieved the part.
Your character in "Shallow Ground" has no dialogue and if that wasn't enough, you were naked and covered in blood too. How did you prepare for your part and did having no dialogue make things that much harder?
My motto is acting is reacting. This is what made on inside him that it was really a challenge to make those emotions come out without saying a word. I always find a song that relates to my character and then I listen to it over and over while we are shooting. I never tell anyone what song it is, hah. A person has to be a little mysterious.
How was your experience working on the set of "Shallow Ground?"
Let me tell you that working on this film was a blast. People think I am nuts because of the conditions I had to work it but honestly I didn't think about it. When a movie has a low budget like "Shallow Ground", people tend to be in it more for the art of the film then the money. They took something that was suppose to be a small project and it just blew up.

It is a film I am proud of because of all the love that went into it. Plus, I got to work with some beautiful women. (Laugh) Patty McCormack and I have been dating since. Ashton and Demi have nothing on us!
Do you have any anecdotes or favorite moments from filming that you would like to share?
Oh man... first day of shooting the shower in my trailer did not work. Make-up department was freaking out about how to get all that blood off from me. We ended up using a million baby wipes and it took about 1 hour to clean me off. In my head I was thinking "what did I get myself into?!"
I know I have been waiting for this release for a long time. Lots of fans from the site have. It is currently ranked
number 6 in our database. That is out of over 2,000 movies. What is your reaction to that?
Number 6?! You know, I'm just happy for everyone who worked on the film. A lot of hard work went into making "Shallow Ground" and I am happy that people are enjoying it. Side note, the fans rock!!!
Now switching gears, tell us about "Mortuary" - Can you give us an overview on the story and about your character?
"Mortuary" is about a family that moves to a small town hoping to start a new life. They move into a funeral home that the mom, Denise Crosby, plans on starting up again. What they don't know is that something evil lurks beneath the soil!

I play the character Grady. A blast to play. He is the normal small town kid trying to find his place in the world. And yes, this character gets to wear clothes.

The cast is great! It's going to be a good movie.
Working with Tobe Hooper must have been awesome. How was your experience on the set of his film and working with one of "the greatest" horror directors?
Tobe Hooper is one of the greatest horror directors of all time! He knows his stuff. I was a bit nervous to meet him and work with him but within two seconds of meeting him the nerves stopped. Not only is he a great director who cares about the actors, he is a great person. We are blessed to have such an icon.
On the films official site, it says that with this film "Comes the next chapter in FEAR." Will Mortuary really be that next chapter? Will the film scare the *#&@ out of us?
It's a Tobe Hooper film, so yes I think it will scare the *#$@ out of you. The movie is going to be a fun ride, different from some of Tobe's previous work.
What would be your favorite "Mortuary" moment?
It was about 2 O'Clock in the morning and we had to shoot some scenes where some of us cast members had to run while screaming through these enormous caves set decoration built. I can remember all of us being exhausted from the long hours.

Tobe called action and we ran, screaming at the top of our lungs. Then Tobe would shouted "Turn around and run back now," so we turned around and ran back screaming. Then Tobe shouted "Now go back... run... scream!!! RUN!!!" This went on for about 20 minutes, back and forth. It was quite funny. So much fun. Actors have to look nuts! Hah.
On your site, you have a quote (from you), which says - "Believe it to be true and meet yourself there." Very cool and insightful, how did you come up with it?
Hell if I know. (Laugh) I was sitting on the beach in Michigan, and I knew in my heart that I was going to be in films. Then it clicked. I know I am going to do this in my life, so why live life and go with what it chucks at you, no matter good or bad, and know that in the end you are meeting yourself at the place you already been. So go for it! HUH!? (Laugh) "Life's too short to drink flat Pepsi Cola." I hear you. Life is too short for anything flat.
I see you have a Yahoo fan club" dedicated too the rising career of Rocky Marquette, Hollywood's newest star".. must be very flattering?
Yes, it is always flattering to know people support you. I have to say, I have a small fan base but man do they rock! I plan on sticking with it for quite sometime. And it is true, life is too short to drink flat Pepsi. Shake things up a bit.
Give us some Rocky Marquette trivia - could be about anything?
I went to band camp for 4 years. And I have to admit, I do say "ohh... this one time at band camp." Hey, band peeps kick butt.
Here is a skeleton from your closet. Tell us about the puppet show in 1987.
1987. Didn't the 80's rock? (Pause) Yeah, that was for my Aunt Kims college class project. It was in front of a class of about 30 people. She got an "A", need I say more.
Since this is a horror site, we need to know, are you a fan of horror films and what are some of your favorites?
Who doesn't like horror films? Oh man... some of my favorites would have to be "Nightbreed" (Clive Barker), "Cujo" (Lewis Teague), "Killer Klowns from Outer Space" (Stephen Chiodo), "Poltergeist" (Tobe Hooper), and of course "Shallow Ground" directed by Sheldon Wilson.
Outside of your own, is there any horror films you are looking forward to seeing this year?
"Dark Water". Jennifer Connelly alone is worth it.
I know that you played the saxophone in high school. Is that something that you still practice?
I do. Sometimes you need to get away from things and have your own time. My saxophone helps me do that.
What happened that made you say "I want to be an actor?"
Susan Lucci. (Laugh) Crazy but true. I use to spend a lot of time with my Grandma Gordon. She lived in this small town with not much to do. So, I ended up watching "All My Children." That is when I said "I want to be an actor!"
If you could work with any director of your choice, who would it be and why?
Man, good question. (Pause) Gus Van Sant. I sit down and watch his movies and notice these small elements he captures in the actors performances that just blow me away. "Good Will Hunting" has to be one of my favorite movies of all time.
If you weren't acting, what would you be doing?
I can't see myself not acting. But if I had to find something else, I would probably do four more years of band camp. (Laugh)
Do you have any advice for anyone wishing to be an actor?
"Believe it to be true and meet yourself there." Always remember that the key to motivation is to look at how far you have come instead of how far you have to go.
What is the best piece of advice anyone ever gave you that you did not follow?
"Have a backup plan." Why was this the best advice if I didn't follow it? If I did have something to fall back on in this business, I would fall back. Sometimes you have to put the burner under you butt to keep you pushing.
Finally, if you found yourself facing the end of civilization, what are three things you would like to have with you and who would you want by your side?
My MP3 player, my saxophone and a never ending Pepsi-Cola machine. (Laugh) Who would I want by myside... God.
Thank you again for taking the time to do this interview, do you have anything else you would like to add about "Shallow Ground", "Mortuary" or to say to the readers?
Your welcome. Just keep watching films and check out "Shallow Ground" and "Mortuary" if you can. And keeping going to HorrorMovies.Ca! Thank you.